Printing mugs faster and easier with the TURBO wrapper
By Valerie van der Klift | Last updated 27 October 2022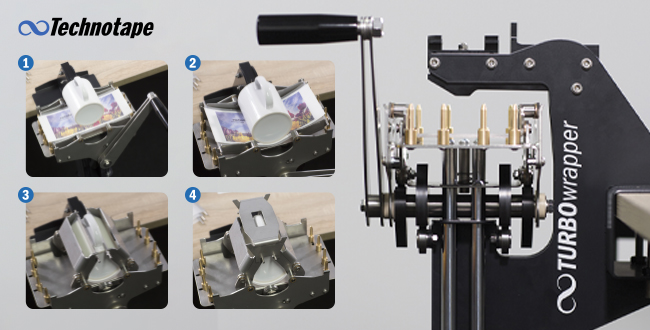 "The TURBO wrapper is an indispensable system when you personalize or print mugs. Because it is practical, lightning fast and, sustainable. With the TURBO wrapper, your mug is ready for printing in just 15 seconds. Read this article to find out how. "
Photo mugs and personalised mugs are extremely popular. You may already have photo mugs in your range, or you are considering this. However, if you have experience printing mugs, you know that both positioning and fixing the design on the mug can be a time-consuming job. Especially, if you have a somewhat larger mug production. But, with the TURBO wrapper you can prepare mugs for the printing process in no time!
What is the TURBO wrapper?
The TURBO wrapper is a patented system, developed and produced by Technotape International. We were looking for a way to make mug printing easier and faster. So, you don't have to mess around with the printed design and heat-resistant tape anymore. Thanks to the TURBO wrapper, the printed design is always well positioned! And, there are more benefits.
All the benefits of the TURBO wrapper:
Ready within 15 seconds per mug
Made of durable materials, making it long lasting
You no longer need heat-resistant tape
The clamp provides a stable base during the printing process
Suitable for sublimation and other printing techniques
Suitable for mugs with a capacity of 11 to 15 oz
Also suitable for bottles, flower pots and other cylindrical items
Working with the TURBO wrapper, step by step
Using the TURBO wrapper is very easy. And you only need a few things:
Using the TURBO wrapper in 5 steps:
Place the silicone TURBO wrap in the TURBO wrapper
Place the printed design on the wrap, with the printed side up
Place the mug
Turn the handle half a turn
Place the TURBO clamp
PS. Did you know that the TURBO wrapper hardly takes up space in your workplace? It is barely 1 m2!

appy 4th of July! As we celebrate America's independence, it's time to get ready for the festivities that come along with it. This year, why not show your patriotic spirit in a unique way by incorporating sublimation products into your celebrations?

Have you heard the saying that "In the past, everything used to be better?" Whether you believe that or not, opinions are always divided. However, when it comes to games, the classic games are always a go to. Like jigsaw puzzles. Scientific research shows that jigsaw puzzles have surprising benefits for your brain!